Get TAGged
The Sickle Cell Foundation of Greater Montgomery, Inc., a United Way-Funded nonprofit, has produced a customized Alabama license plate, and is seeking supporters to purchase this distinctive license plate.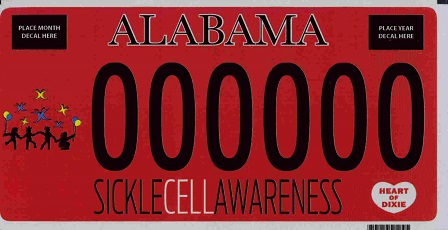 Alabama is the first state to accomplish the approval of a sickle cell awareness license plate. Supporters will pay $50 to purchase the plate. Forty-five dollars will go directly to each site according to the county it represents (i.e. funds that are raised for tags purchased in Montgomery, Autauga, Butler, Chambers, Chilton, Coffee, Coosa, Crenshaw, Dallas, Elmore, Lowndes, Tallapoosa, and Wilcox counties will go to the Montgomery Sickle Cell Chapter of Alabama) to fund:
The Pediatric Clinic of UAB in Montgomery
Continued support for our education, counseling, and screening programs.
Community support of those with this debilitative disease.
Those who wish to purchase the license plate should visit their local county tag office and ask to purchase the sickle cell tag. Here is a list of the offices for those living in the nine counties we serve:
Autauga
Autauga County Probate Building
176 West 5th Street
Prattville, AL 36067
334-361-3725
Butler
Butler County Probate Office
700 Court Square #7
Greenville, AL 36037
Chambers
Chambers County Probate Office—Lafayette
2 Lafayette Street Suite E
Lafayette, AL 36862
334-864-4384
Chambers County Probate Office—Lanett
610 South Gilmer Avenue
Lanett, AL 36863
334-644-6318
Chilton
Chilton County Tag & Title
407 2nd Avenue North
Clanton, AL 35045
205-755-1258
Coffee
Coffee County Revenue Commissioner's Office—Elba
230-R Court Street
Elba, AL 36323
334-897-2211
Coffee County Revenue Commissioner's Office—Enterprise
99 South Edwards Street
Enterprise, AL 36330
334-347-2688
Coosa
Coosa County Tag & Title
9709 U.S. Highway 231
Rockford, AL 35136
256-377-4919
Crenshaw
Crenshaw County Revenue Commissioner's Office
29 South Glenwood Avenue
Luverne, AL 36049
334-335-6568
Dallas
Dallas County Tag & Title
105 Lauderdale St
Selma, AL 36701
334-874-2518
Elmore
Elmore County Probate Office
100 East Commerce Street # 100
Wetumpka, AL 36092
334-567-1139
Lowndes
Lowndes County Probate Office
1 South Washington Street
Hayneville, AL 36040
334-548-2271
Montgomery
Montgomery County Probate Office—Downtown
100 South Lawrence Street
Montgomery, AL 36104
334-832-1233
Montgomery County Probate Office—East
5449 Atlanta Highway
Montgomery, AL 36109
334-272-8505
Montgomery County Probate Office—West
3075 Mobile Highway
Montgomery, AL 36108
334-262-4226
Tallapoosa
Tallapoosa County Probate Office—Dadeville
125 North Broadnax Street
Room 126
Dadeville, AL 36853
256-825-4266
Tallapoosa County Probate Office—Alexander City
82 Court Square, Room 201
Alexander City, AL 35010
256-234-3264
Wilcox
Wilcox County Tag & Title
100 Broad Street
Camden, AL 36726
334-682-4883